Empower employee growth with
MedQdoc's streamlined training management solution
Easily manage and monitor your employees' training requirements and progress with MedQdoc's comprehensive training solution. The platform offers training templates, dedicated training spaces and a straightforward training tracker, ensuring your workforce stays up-to-date with the necessary skills and qualifications they need. Simplify training management, enhance compliance and empower team development with our user-friendly training system.
MedQdoc is validated and developed by MedQtech, an ISO 13485:2016-certified company. MedQdoc has built-in functionality for companies to comply with MDR, IVDR, QSR, ISO 13485 and ISO 14971.
The training functionality within MedQdoc includes: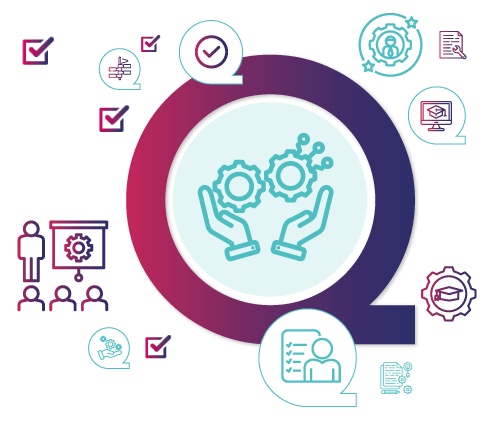 Structured training process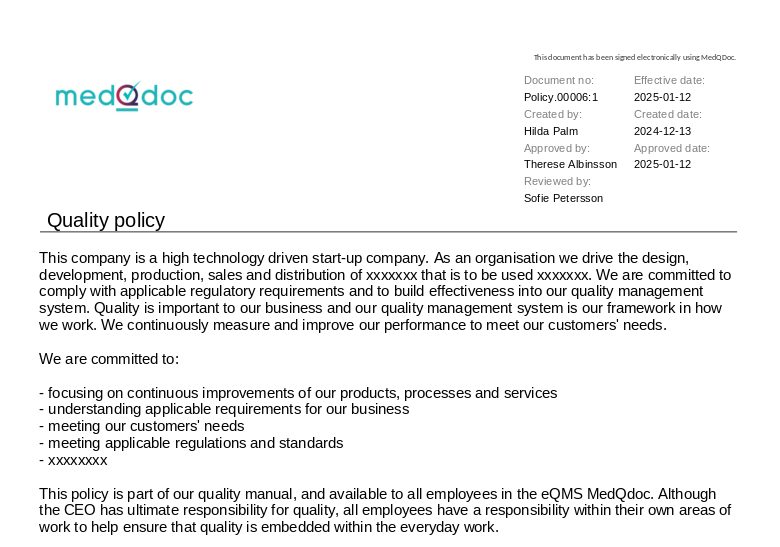 Perform training of your employees in a structured manner, helping you to document training needs and performed training.
Ready-to-use form for registering training sessions
Simplify training documentation with a built-in form that lets the trainer document the training and list the participants.
Individual training record for self-evaluation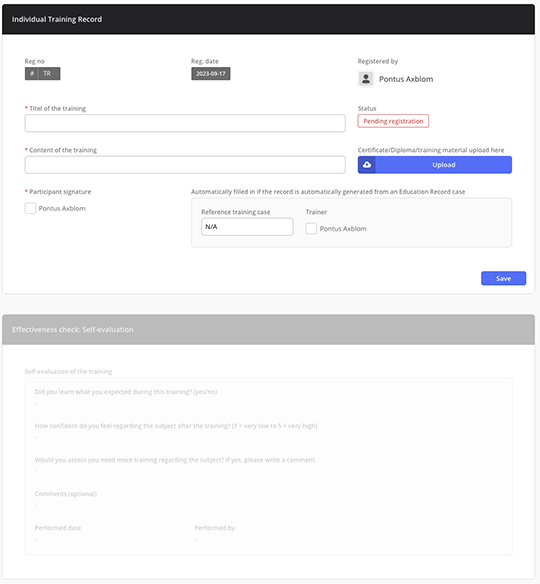 Automatically notify the trainees and let them evaluate the training effectiveness. The trainer is automatically notified for instant follow-up.
Streamlined education folder structure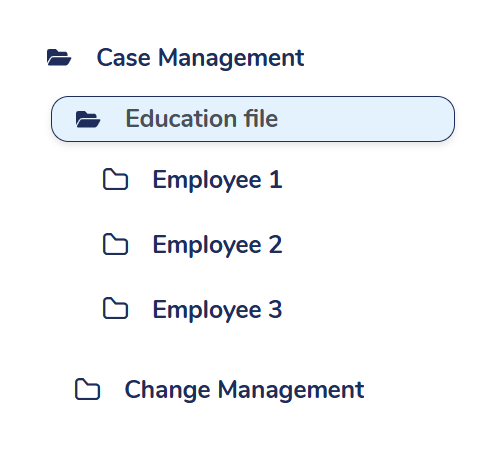 Organise and locate your educational materials easily with MedQdoc's pre-defined folder structure, saving time and enhancing productivity.
Controlled access to training files
Safeguard your training materials and ensure that files are accessed only by those who need them to maintain compliance and confidentiality.
Training tracking and notification

Relevant personnel are promptly notified when new training documents or standard operating procedures become available. Receive read-receipts and track training completion to stay on top of training requirements.
Enhanced search functionality
MedQdoc's powerful search functionality allows for quick and accurate retrieval of relevant training materials, supporting efficient onboarding and ongoing learning initiatives.
Training update notifications

Receive clear and visible notifications in your email and MedQdoc system inbox so that you never miss an important training update.
Robust case and document control
Benefit from transparent audit trails and advanced tagging functions to manage and keep track of all training documentation, ensuring accountability and compliance.
Training sign-off validation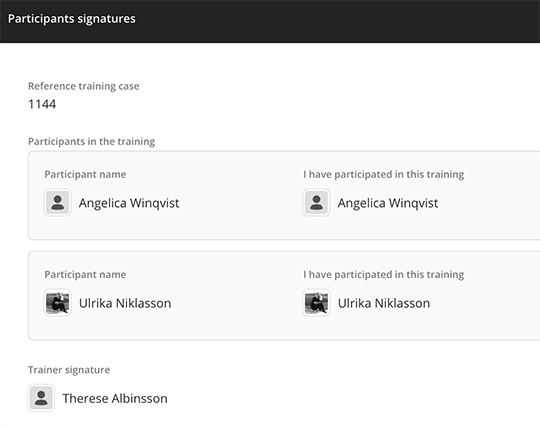 Capture electronic signatures and acknowledgements from trainees to ensure that they have reviewed and understood the training content, forming a robust training validation system.
MedQdoc medical device training management helps you to comply effectively with:

MDR / IVDR

ISO
13485

ISO
14971

QSR
(FDA)

CE-marking
process

21 CFR
Part 11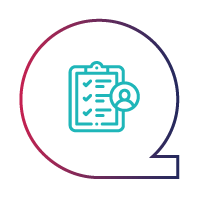 Designed by medical device quality and regulatory compliance experts.
Includes over 130 QMS and MDR/IVDR technical documentation templates for medical device compliance.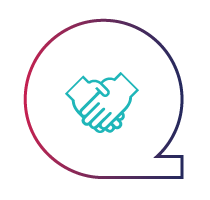 Intuitive and user friendly; simple and effective ISO 13485 document control.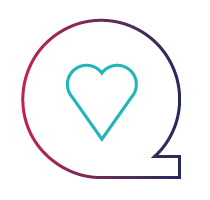 MedQdoc is loved by auditors.
"One of the top reasons we chose the system was because it was created by regulatory experts, which seems to be unique in the market."
Malin Nilsson, CEO, Inossia

MedQdoc has extensive functionality in all of the QMS areas below, please talk to the MedQdoc team for specific queries that you may have:
Quality Management System