MedQdoc: The Intuitive
e

QMS

medical device quality management software

Reach your quality goals
quickly and effectively

A simple, ready-to-use eQMS
that adapts to your needs.
Ensuring an effective QMS journey for your medical device company
MedQdoc is a medical device quality management software solution created by medical device quality and regulatory compliance experts. It is designed to make life easy for our customers by providing a logical workflow.
Functions and information you use daily are just a click away. The search query tools help you quickly find what you are looking for. Your documents, process maps and case management intelligently link. The templates are written by quality and regulatory compliance experts. It is ready-to-use and user-friendly, but still comprehensive enough and adaptable where needed.
Outlined below are some focus areas which have helped our customers when utilizing MedQdoc within their businesses. However, if you have any specific requirements or questions please get in touch.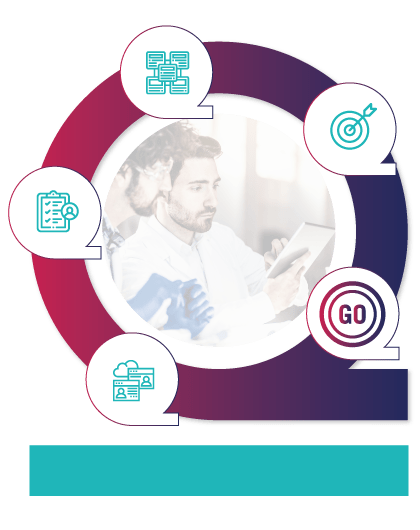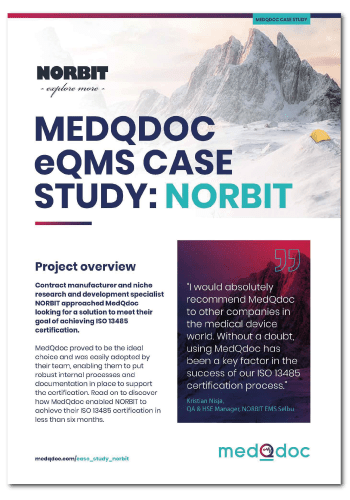 Read how NORBIT utilised MedQdoc to successfully achieve ISO 13485 certification in 6 months
Get up and running quickly with MedQdoc eQMS
Our experience of user integration has been extremely positive with this easy-to-use medical device quality management software. With core training in place users can quickly engage with the system and advance effectively to actual application.
Quickly start building and at the same time using your quality management system with pre-prepared QMS templates, technical documentation and other elements specifically created for the medical device industry by quality and regulatory compliance experts. You can feel confident that if you follow the structure of MedQdoc that your QMS will be compliant to ISO13485, QSR and MDR/IVDR.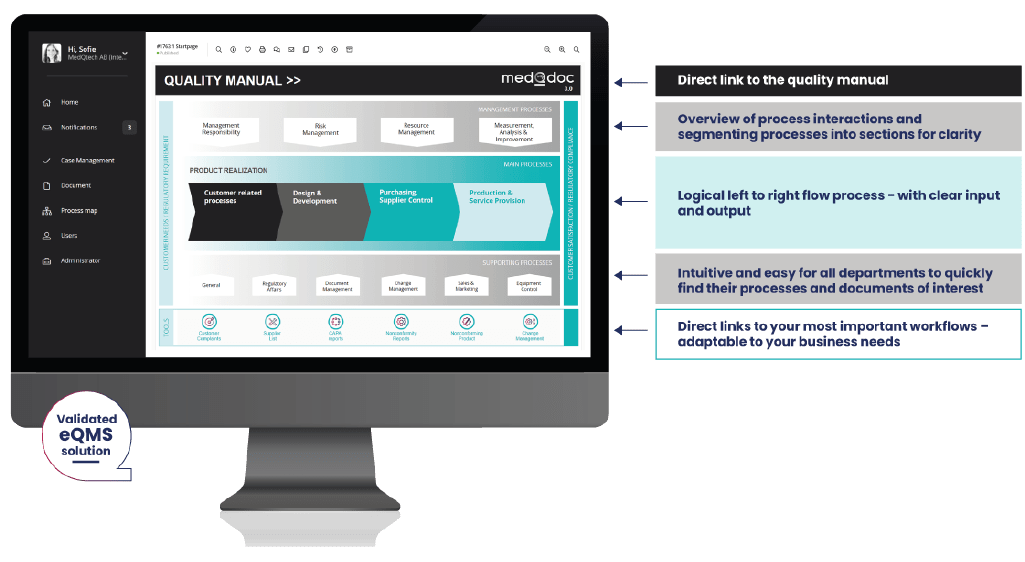 Intuitive, user friendly and simple medical device quality management software
A key subject. Your eQMS system will be used across multiple departments and employees across your business. Not all of them can be eQMS experts. MedQdoc makes it easy.
Great start page. The intuitive start page quickly navigates you to your focus areas or documents of interest in the eQMS.

 

Simple and focused. MedQdoc is focused on medical devices and the structure is set up accordingly. MedQdoc guides you to your processes and workflows, shows you only what you need, and is easily adapted to meet your business needs.

 

Intelligent linking. To provide you with a smooth workflow, MedQdoc intelligently links documents and procedures with related process maps, documents and cases for easy navigation.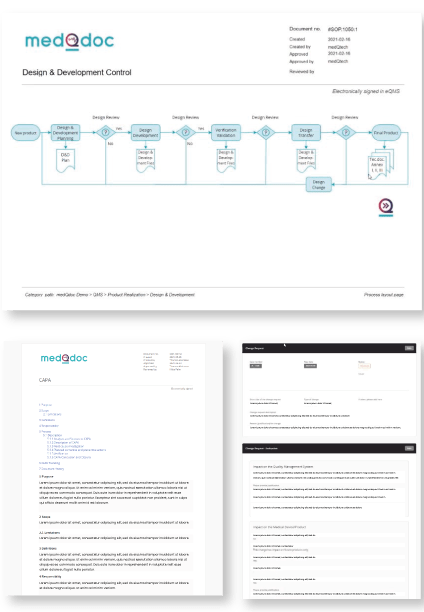 Templates, technical documentation, validation documents
– all included
Everything is included in MedQdoc and all templates are independently written by medical device quality and regulatory compliance specialists. This offers genuine value for your organisation.
A specialist medical device quality management software solution, MedQdoc contains all the document templates that you need to build up your regulatory compliant QMS, as well as technical documentation for both IVDR and MDR. It comes validated and ready to use, with all underlying validation documents included. This means that you have the opportunity later to adapt and make changes either yourself or with our support.
It is important to note that you can adapt all templates for your organization.
Simple and effective document control
A medical device quality management software built to provide effective collaboration and assured compliance.

Document management. MedQdoc provides one intelligent location for all documentation in the organisation where you can create, share, collaborate and manage document revisions, receive reading receipt requests, send documents for review and approval, and more.

Unique document number and version control. Approved and published documents are assigned a unique number including a version number. The document needs to be revised to be updated.

Record management. MedQdoc provides a pre-defined structure for technical documentation and all other QMS records.
Audit trail. Access to computer-generated, time-stamped audit trails to independently record the date and time of operator entries and actions that create or modify electronic documents.

Reading receipt. Use the reading receipt function to notify affected personnel when a new document has been approved and needs to be read and understood.
Learn all about our document control functionality here
"Can I have a list of all QMS documents and which paragraph in ISO13485 they are linked to?" Yes, of course! And you can also instantly see what paragraphs in QSR and MDR/IVDR they are connected to.

Auditors love MedQdoc
It's a bold statement, but one we believe in. When MedQdoc is involved in an audit we get a lot of positive feedback.
Why? Our intelligent query builder creates perfect lists of everything from a product's DHF or DMR, to all SOPs within a specific area or part of the regulation, making it easy to find the exact documentation needed. The logical format of the start page provides a real benefit during audits, along with the interlinking of documents that ensures process maps are followed effectively.
MedQdoc ensures that not only is everything in place, but that it is easy to find exactly what you need. Both elements are so important to an effective medical device quality management software and can make an audit much easier.
Core MedQdoc eQMS functionality examples that help you with your medical device quality and regulatory compliance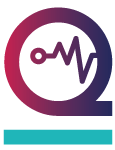 Organised SOPs & WI templates – in an intelligent compliant structure
Already designed compliant process maps – with the possibility to design your own
Tag documents with the different terms in ISO13485, QSR and MDR/IVDR – don't duplicate efforts or documents.
Intelligent case function to handle CAPA, non-confirming product, changes etc
Integrated technical documentation – compliant with MDR & IVDR
Easy to add compliance to other ISO management standards such as 14001, 27001 & 9001