How MedQdoc helped MedTech start-up Aidee
achieve ISO 13485 certification within 12 months
Executive summary – how Aidee achieved ISO 13485 certification
Aidee Health are a MedTech start-up that needed an eQMS to help them navigate the regulatory requirements of the industry to bring their innovative blood pressure monitor to market. With MedQdoc, a specialist eQMS for the medical device industry, Aidee were able to establish a robust quality management system and develop the necessary documentation in a fraction of the time without starting from scratch, leading to ISO 13485 certification being awarded within 12 months of implementing MedQdoc.
How Aidee benefitted from using MedQdoc
Using MedQDoc, Aidee were able to:
Understand and satisfy the regulations more quickly and easily by using the intuitive, ready-to-use and customisable templates
Ensure nothing slipped through the cracks by relying on the robust document controls
Implement a compliant eQMS efficiently
Become audit-ready quickly, which reduced potential delays in the certification process
Embed a quality management-oriented culture within the organisation from the outset of the project.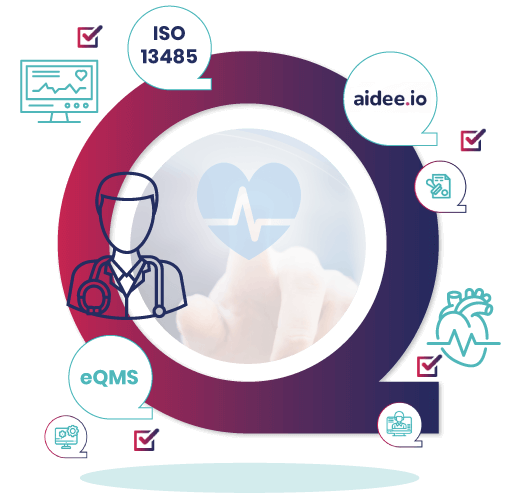 "MedQdoc gave us the perfect head start as a business with relatively little experience in the MedTech industry. The eQMS was simple to use and it was packed full of practical guidance to help us gather and produce the necessary documents needed to demonstrate compliance. We would not have achieved our goal of ISO 13485 certification so quickly if it weren't for MedQdoc guiding us every step of the way."
Susanne Ludvigsen, CEO, Aidee Health
Who are Aidee?
Aidee Health AS are a Norwegian-based start-up developing cutting-edge blood pressure monitoring technology to combat hypertension more effectively. The innovative solution moves away from the traditional inflated cuff method for measuring blood pressure, which can induce stress on the body during the process and bring about measurement inaccuracies.
Aidee's innovative monitor is a comfortable chest strap that provides continuous, round-the-clock blood pressure monitoring without the discomfort of a constricting cuff. It feeds electrical (ECG) and optical (PPG) measurements from the chest strap to a complex algorithm that accurately calculates blood pressure, which is displayed alongside other monitored parameters within a mobile app.
Not all eQMS solutions are the same
Aidee needed to become certified to launch their blood pressure monitor on the market. Their first step was to demonstrate they had a quality management system that facilitated ISO 13485 compliance. And being in the digital solutions world, Aidee knew from the outset that they needed an eQMS rather than a paper-based system.
Aidee were using a competitor's eQMS at the beginning of their product development journey, being initially attracted to their large international presence and clever design for automatic design control and risk management.
Aidee were looking for templates to help them kick-start the development of their quality procedures and documentation but found that these were an add-on module that came at additional cost. The templates were also based heavily on US regulations with little focus on ISO 13485 certification — required to achieve CE marking for launch in the EU market.
Aidee needed an eQMS that aligned better with their processes and objectives and so got in touch with the MedQdoc team after learning about the eQMS.
Discovering the value of MedQdoc
As a company in its early stages in the industry, Aidee did not have existing documentation or processes to use as a reference. And with little prior experience within MedTech and its compliance requirements, Aidee needed a robust eQMS that could provide a starting point and give practical guidance on what they needed to do to demonstrate compliance.
They revisited their vendor selection process and reviewed what the requirements of their eQMS were:
All-in-one digital QMS with workflows and features built specifically for medical device manufacturers, to help incorporate regulatory standards into operations right from the start
Easy to navigate, use and understand by new entrants to the MedTech industry
Deliver on ISO 13485 compliance and CE marking for the Norwegian and EU markets
Support future expansion into wider markets and their local regulatory compliance requirements (e.g. QSR for the US)
Easy-to-understand templates that set out a straightforward way to create and maintain records and give practical guidance on how to demonstrate compliance
Extensive library of preconfigured templates that make it quick, easy and efficient to get up and running, even for start-ups
All-inclusive eQMS with no unexpected add-on modules and hidden costs
Proven and established eQMS that is trusted by other like-minded medical device quality professionals and organisations.
Aidee discovered that MedQdoc could deliver on these needs and also guide the team in a straightforward, practical and structured way towards establishing a robust and compliant quality management system.
Fast-tracking ISO 13485 compliance with MedQDoc
After transitioning to MedQdoc, Aidee's team found that it was more intuitive and informative than the previous system they used. Aidee found that unlike other templates on the market that simply copied and pasted text from the regulations, MedQdoc's templates were tailored and written by medical device quality and regulatory compliance experts and proposed practical ways of demonstrating ISO 13485 compliance at no additional cost.
This was a big time-saver for Aidee as they were able to understand the requirements more easily without having to interpret the complex regulations and figure out how to demonstrate compliance themselves. They were also able to generate the required documentation without needing to start from scratch by using the guidance, which gave them more time to focus on other areas of the business.
In addition to MedQdoc's extensive library of templates, Aidee also found MedQDoc's document management system invaluable in improving their efficiency and driving their quality management-oriented culture throughout the organisation. With MedQdoc's document management system, Aidee were able to edit documents without checking them in and out and work directly in the software without needing to download the documents separately onto local drives. Aidee were impressed by how easy it was to manage the audit-ready system and how it reduced the time spent on admin.
By embedding MedQdoc into their processes since project conception, Aidee became confident that their quality processes and documents could stand against the scrutiny of rigorous auditors without having to worry about retrofitting any documentation or discovering issues at a later stage. This was quickly proven to be the case during their successful audit with BSI for ISO 13485 certification.
MedQDoc now drives Aidee as their primary software system to store all their documentation, procedures and records. They have used MedQdoc to carry out supplier audits and have now completed their manufacturer selection process. Moving forward, Aidee are continuing to use MedQdoc to produce all the technical documents needed as part of their product development.

"We did not expect the audit process to go so smoothly and quickly, but MedQdoc was so logically structured and easy to navigate that anything the auditor asked for, we could produce with ease without any running around. We are green to the industry, so it is a real achievement to come out of the audit with only 3 minor and easily resolvable non-conformities. Using MedQdoc's framework gives me confidence that we will always be audit-ready."
Espen Westgaard, CTO, Aidee Health
About MedQDoc
MedQDoc is an electronic quality management system (eQMS) designed specifically for the medical device industry. Created by medical device quality and compliance experts, the software helps medical device companies reduce their time to market through intuitive, easy-to-use and streamlined tools, templates and functionalities. Contact our team for a demonstration and learn how MedQdoc can accelerate your quality compliance journey.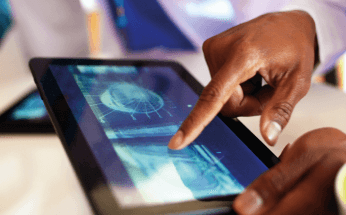 Request a MedQdoc consultative led Demonstration
Request a Demonstration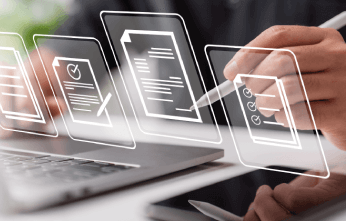 Can an eQMS help you with 21 CFR Part 11 Compliance?
Read more
Follow us on LinkedIn to see our latest features, templates and tools.
Follow us